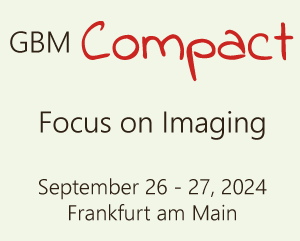 ---
Welcome
Dear Friends and Colleagues,
We warmly welcome you to the GBM Compact Conference 2023 in Frankfurt.
Our meeting will cover different areas of proteomics – from intact to bottom-up proteomics and from basic to clinical research questions. We aim at providing a solid overview of proteomics methods, how to use them and in which way they have contributed to new scientific insight.
Cutting-edge technologies are increasingly important for basic and applied research. This year's conference aims at providing a broad overview over proteomics and offering an opportunity for participants to discover how to use proteomics for their own research.
We are fortunate to have world-leading experts to introduce their work with proteomics and the discoveries made.
We sincerely hope that the upcoming meeting will offer interesting opportunities to learn about proteomics, spark in-depth discussions, initiate new friendships, collaborations, and joint projects.
We look forward to seeing you in Frankfurt!
Volker Haucke
Christian Münch
Albert Sickmann
---
Program
Tuesday, Sept. 5
13:15 - 14:15
Keynote Lecture:
Matthias Mann /Martinsried
Title not submitted yet
14:15 - 14:45
Charlotte Uetrecht /Hamburg
Flying viruses - mass spectrometry meets X-rays
14:45 - 15:00
Short talk 1:
to be selected from the submitted poster abstracts
15:00 - 15:15
Short talk 2:
to be selected from the submitted poster abstracts
15:45 - 16:00
Short talk 3:
to be selected from the submitted poster abstracts
16:00 - 16:30

Nina Morgner /Frankfurt
Title not submitted yet
16:30 - 17:00

Jesper Olsen /Copenhagen [DK]
Title not submitted yet
18:45 - 20:30
Get together &
Poster Session
Wednesday, Sept. 6
09:00 - 09.30

Tami Geiger /Rehovot [IL]
Title not submitted yet
09:30 - 09:45
Short talk 4:
to be selected from the submitted poster abstracts
09:45 - 10:15

Pedro Beltrao /Zürich [CH]
Title not submitted yet
10:15 - 10:30
Short talk 5:
to be selected from the submitted poster abstracts
10:30 - 11:00

Bettina Warscheid /Freiburg
Title not submitted yet
11:30 - 11:45
Short talk 6:
to be selected from the submitted poster abstracts
11:45 - 12:15

Matthias Selbach /Berlin
Title not submitted yet
12:15 - 13:15
Keynote lecture:
Kathryn Lilley /Cambridge [UK]
Title not submitted yet
---
Registration
Important Dates
Deadlines:
Early registration: June 30
Regular registration: August 31
Start late registration: September 1
On site registration is possible.
Abstract submission: June 30
Registration & Abstract Submission
Sponsoring & Industrial Exhibition
If you wish to present your company at our Conference "GBM Compact: Focus on Proteomics" please contact
Dr. Anke Lischeid
GBM Managing Director
lischeid@gbm-online.de
Phone: +49 69 660567-12
Registration Fees
The registration fee includes coffee/tea/mineral water during the conference breaks.
Please note the general terms and conditions for payment and cancellation and our privacy policy.
If you want to join the GBM with your registration to enjoy the reduced participation fee, please fill in the online membership application (or fill the pdf application and send it to the GBM head office.
* member of the GBM, DECHEMA, DGZ, GDCh, VAAM, Bunsen Society
(Please bring a proof of your membership to the Kolloquium.)
Registration fees for non-members*
Non-members*
early
regular
late
Regular
260
310
350
Student/
Retiree
130
180
210
All prices in EURO
Registration fees for members*
Members*
early
regular
late
Regular
210
260
300
Student/
Retiree
110
160
190
All prices in EURO
We thank for the kind support by:
---
Information
Accommodation
We do not have an overview of the current vacancies of the hotels in and around Frankfurt. We therefore recommend booking via online portals such as booking.com or hotel.de.
Abstracts
Please submit your abstract online after you finished the registration process.
All neccessary information will be provide during the abstract submission process.
In case you are preparing your abstract offline please mind the maximum length of 1500 characters.
Conference Proceedings
Your name badge and a program booklet will be available at the registration desk in Frankfurt. Please wear your name badge during the whole meeting.
We do not provide a abstract book. Please download the abstract pdf shortly before the meeting or use the online list of abstracts in the program booklet
Grants
As a young member of the GBM you can apply for a travel grant until July 15.
Still not a member of the GBM? Here you can apply for it.
Internet
A wireless LAN connection is available.
Meals & Drinks
Coffee, tea and mineral water will be provided for free during the coffee breaks.
Lunch is available at your own expense nearby the conference building.
Office
Numbers of the conference office (during the opening hours):
Tel. +49 69 660567 0
Opening hours:
| | |
| --- | --- |
| Tuesday | 12:00 - 18:00 |
| Wednesday | 08:30 - 13:30 |
Posters
The poster should be presented in portrait format (DIN A0 resp. ~120 x 85 cm). Posters should be presented throughout the whole meeting.

We provide material for mounting the posters.
The best two posters will receive a poster prize with 300 € prize money each at the end of the meeting.
Six short talks will be selected from the submitted poster abstracts.
Venue
University Hospital Frankfurt
Haus 22
Theodor-Stern-Kai 7
60598 Frankfurt am Main

Visa
As a participant from abroad you may need a visa from the German embassy. If so please contact the meeting secretariat. We will send you the required invitation letter.